Marlborough Church History
Marlborough is the fault line meeting place of two tectonic plates. The Marlborough Sounds are sea-flooded river valleys. There is archaeological evidence of the Wairau Bar being a very early point of Maori settlement. Captain Cook made his first Marlborough landfall at Ship Cove, made a base there and returned several times on his voyages.
Just as Marlborough had attracted Maori settlement, it attracted European sealers and whalers, before the arrival of the Methodists Rev Samuel Ironside & Sarah Ironside in 1840. In the latter half of the 19th century a multitude of European Christian churches sprang up throughout the Sounds, Wairau Valley, the Awatere and Kaikoura coast, including Methodist congregations who often met in homesteads. The first Methodist church in Blenheim was built in 1865. (This was celebrated with wonderful 150th Anniversary activities in March 2015).
For a hundred years the Methodists had many churches, many preachers, big congregations, huge Sunday School attendance. Older buildings were replaced with new buildings. Blenheim Parish hosted the 1984 Methodist Conference at its new (1983) Wesley Centre. When church union was in the air, the Picton Methodists and Presbyterians formed a Union in 1971, and are still going strong in their modern 1987 building which boasts an excellent EQ resistance rating. The late 1990s saw an unfortunate movement of Methodist members away to churches with more conservative theologies. The Blenheim Parish established the successful John's Kitchen early in the 2000s. This still thrives independently under the Crossroads Trust.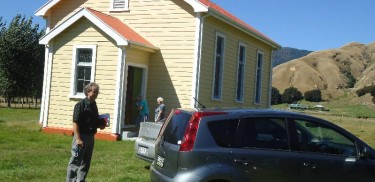 Okaramio Church
Still associated with the Blenheim Methodist Parish are the Okaramio Church and the Rapaura Community Church.